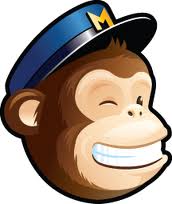 10. Make it a snap to join your list. Your email signup form should be front and center not only on your web site but on your blog, social media profiles, and any other place you can embed your signup code and gather email addresses. Get creative! Check out Mailchimp's high tech and very cool solution to collecting visitor email addresses for inspiration.
9. Give them something to celebrate. Creative placement of your signup form isn't enough. Let subscribers know what they can expect and offer a perk for signing up such as a free download, discount good on their next order, or a sample of digital content you publish (like the first chapter of a book). A promised "perk" is also helpful in ensuring subscribers complete the double opt-in process.
8. Setup and customize your Mailchimp list(s) and consider aggregating data that you can use for targeted marketing campaigns. Collecting information such as birthdays and interest segments allows you to send a special birthday wish accompanied by an offer or target individual subscriber interests with relevant campaigns.
7. Customize the look and feel of your Mailchimp forms and emails to incorporate your company's logo, branding, and color scheme for a cohesive and polished look. This is your subscribers' first interaction with your email offerings so make it a positive one.
6. Upgrade to a paid monthly account to unlock exclusive features (like autoresponders) not available to free Mailchimp account holders. And if you hire a Mailchimp Expert, like us, you can receive credit towards your monthly fee and who doesn't love that?
5. Hire a Mailchimp expert to help you get the most out of Mailchimp and your email marketing needs. When you hire a participating expert, like our agency, you qualify for 50% back in Mailchimp credits through participation in the Mailchimp Expert Exchange program or EEP! For short. Mailchimp experts can assist your company or organization with setting up your Mailchimp account, assist in setting up your first campaign, creating a custom Mailchimp template that reflects your needs and branding, consult on API integration, and much more.
4. Review Mailchimp's integrations directory to see which of your current products Mailchimp integrates with such as Google Analytics, Highrise, FreshBooks, WordPress, etc. These handy integrations can save precious time and resources and ensure your lists are kept up to date and clean of problem addresses.
3. Have a custom template or series of templates designed that take advantage of Mailchimp's powerful template language. A reputable Mailchimp expert, like our agency, will often include Inbox Inspection and Delivery Doctor Reports in their fee saving you the time and cost of doing it yourself.
2. Get social. Connect Mailchimp to your Twitter and Facebook accounts and automatically post your campaigns to those networks and update your fans and followers on your latest offerings, event, or newsworthy commentary.
1. Draft an email marketing strategy and stick to it! Email marketing on a consistent basis is paramount to keeping your audience engaged. Not to mention it greatly lessens the risk of one of your subscribers reporting you for abuse (because the last time you sent an email newsletter out was when Britney Spears still had a career).
Just start sending! Mailchimp makes it easy to create, draft, and send beautiful email campaigns so jump right in and start getting the most out of your marketing efforts.
https://blueprintmediastudios.com/wp-content/uploads/download1.jpg
204
172
Tanya Steinberg
https://blueprintmediastudios.com/wp-content/uploads/logo.png
Tanya Steinberg
2011-12-15 19:35:02
2018-10-22 11:31:44
Top 10 Ways to get the most out of Mailchimp (and your email marketing efforts)